Product Description
| | | | |
| --- | --- | --- | --- |
| Product Name | Coupling | Place of origin | China |
| Brand | Mighty |  Material | Steel /Cast Iron  |
1. Engineering: machine tools, foundry equipments, conveyors, compressors, painting systems, etc.
2. Pharmaceuticals& Food Processing: pulp mill blowers, conveyor in warehouse, agitators, grain, boiler, bakery machine, labeling machine, robots, etc.
3. Agriculture Industries: cultivator, rice winnower tractor, harvester, rice planter, farm equipment, etc.
4. Texitile Mills: looms, spinning, wrappers, high-speed auto looms, processing machine, twister, carding machine, ruler calendar machine, high speed winder, etc.
5. Printing Machinery: newspaper press, rotary machine, screen printer machine, linotype machine offset printer, etc.
6. Paper Industries: chipper roll grinder, cut off saw, edgers, flotation cell and chips saws, etc.
7. Building Construction Machinery: buffers, elevator floor polisher mixing machine, vibrator, hoists, crusher, etc.
8. Office Equipments: typewriter, plotters, camera, money drive, money sorting machine, data storage equipment, etc.
9. Glass and Plastic Industries: conveyor, carton sealers, grinders, creeper paper manufacturing machine, lintec backing, etc.
10. Home Appliances: vacuum cleaner, laundry machine, icecream machine, sewing machine, kitchen equipments, etc.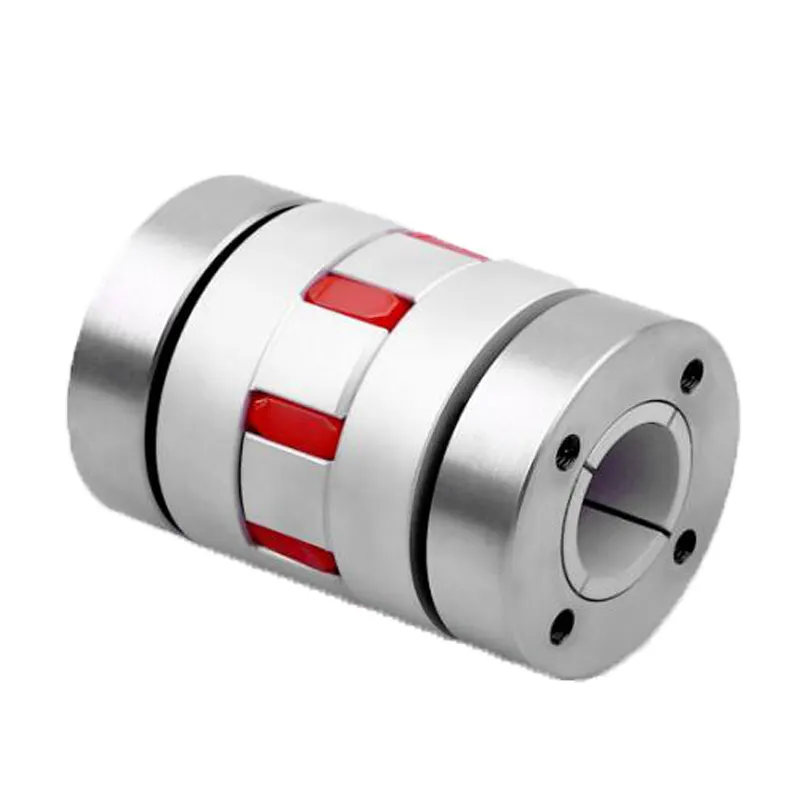 How do jaw couplings handle shaft misalignment in rotating equipment?
Jaw couplings are mechanical devices used in rotating equipment to connect two shafts and transmit torque. One of the key advantages of jaw couplings is their ability to handle shaft misalignment. Shaft misalignment can occur due to various reasons, including manufacturing tolerances, thermal expansion, foundation settling, or general wear and tear. Jaw couplings can accommodate misalignment in three primary ways:
Angular Misalignment: Jaw couplings can handle small angular misalignments between the connected shafts. The flexible nature of the elastomer spider (the central element in the jaw coupling) allows for a certain degree of angular movement between the hubs without exerting excessive forces on the connected equipment.
Parallel Misalignment: Parallel misalignment occurs when the two shafts are not perfectly aligned in a straight line. Jaw couplings can tolerate some amount of parallel misalignment due to the flexibility of the elastomer spider. This flexibility allows the hubs to move slightly relative to each other, thereby reducing the transmission of misalignment-induced forces to the equipment.
Axial Misalignment: Axial misalignment refers to the offset between the axial positions of the connected shafts. While jaw couplings are primarily designed for torque transmission and misalignment compensation in angular and parallel directions, they can also handle minor amounts of axial misalignment due to the elastomer spider's ability to absorb limited axial movement.
It is essential to note that jaw couplings have their limits in handling misalignment. Excessive misalignment beyond their design capabilities can lead to premature wear, reduced coupling life, and potential damage to the connected equipment. Therefore, it is crucial to understand the specific misalignment limits of the jaw coupling being used and ensure that the equipment operates within those limits.
In summary, jaw couplings handle shaft misalignment in rotating equipment by utilizing the flexibility of the elastomer spider to accommodate small angular, parallel, and axial misalignments. This feature helps protect the connected equipment from the detrimental effects of misalignment and ensures smooth and reliable operation.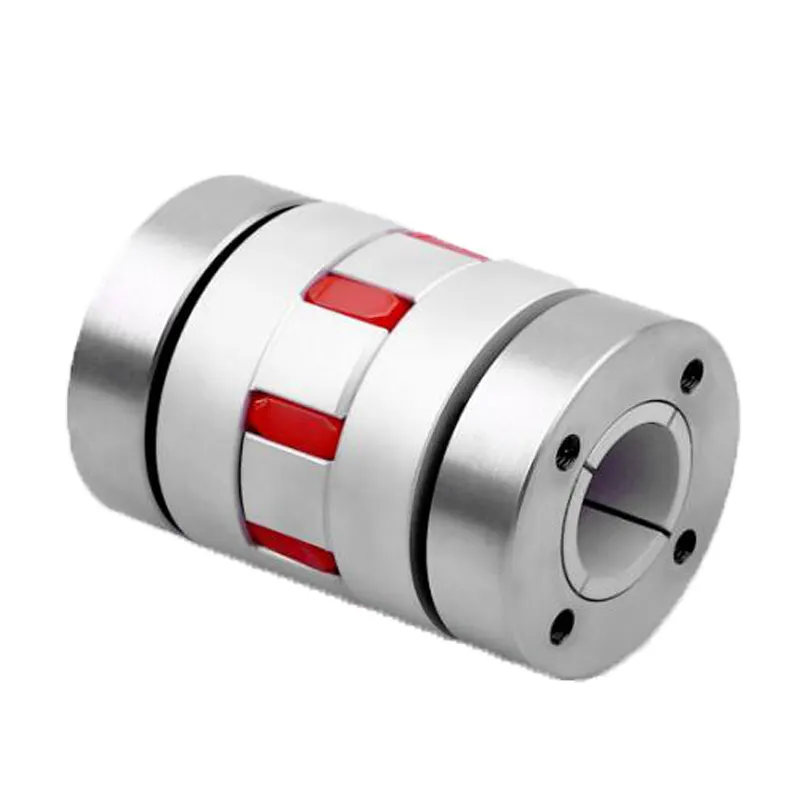 Can jaw couplings be used in marine and automotive applications?
Yes, jaw couplings can be used in both marine and automotive applications, and they have proven to be effective in various scenarios within these industries. Here's how jaw couplings are utilized in marine and automotive settings:
Marine Applications:
In the marine industry, jaw couplings are commonly used to connect the engine to various components, such as propellers, pumps, generators, and auxiliary equipment. They offer several advantages that make them suitable for marine applications:
Corrosion Resistance: Marine environments are exposed to saltwater and other corrosive elements. Jaw couplings made from materials such as stainless steel or other corrosion-resistant alloys can withstand these harsh conditions and ensure long-lasting performance.
Misalignment Compensation: Vessel movement and hull flexing can lead to misalignment between the engine and driven components. Jaw couplings can accommodate both angular and parallel misalignment, ensuring efficient power transmission even in dynamic marine conditions.
Vibration Damping: The elastomer spider in the jaw coupling absorbs vibrations generated by the engine and other equipment, contributing to smoother operation and reduced wear on the components.
Compact Design: Space is often limited on boats and ships. Jaw couplings have a compact and lightweight design, making them suitable for applications with space constraints.
Automotive Applications:
In the automotive industry, jaw couplings are used in various applications, including power steering systems, engine-driven accessories, and HVAC blowers. They offer several benefits for automotive applications:
Misalignment Compensation: Jaw couplings can handle small misalignments that can occur due to engine movements or assembly tolerances, ensuring reliable power transmission and reducing stress on the drivetrain.
Vibration Damping: The elastomer spider in the jaw coupling dampens engine vibrations, contributing to a smoother and quieter ride for passengers.
Compact and Lightweight: In modern vehicles, lightweight components are essential for fuel efficiency and overall performance. Jaw couplings' compact design and low inertia make them suitable for automotive applications.
Cost-Effectiveness: Jaw couplings are often more cost-effective compared to some other coupling types, making them a popular choice for automotive applications where cost considerations are essential.
In conclusion, jaw couplings are versatile and can be successfully used in marine and automotive applications. Their ability to handle misalignment, dampen vibrations, and provide efficient power transmission makes them reliable components in various dynamic and demanding environments.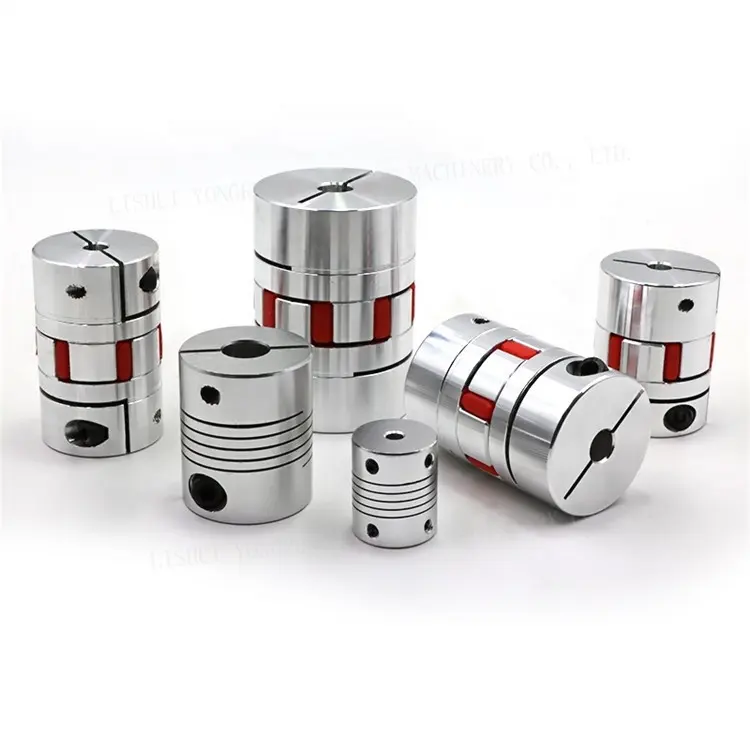 Use of Jaw Couplings in Various Industries for Power Transmission
Jaw couplings are widely used in different industries for power transmission due to their many advantages, including their ability to handle misalignment, shock loads, and vibrations. Some of the industries that commonly use jaw couplings include:
Manufacturing: Jaw couplings are extensively used in manufacturing machinery such as conveyors, mixers, and packaging equipment.
Automotive: In the automotive industry, jaw couplings are employed in various applications, including engine-driven accessories and conveyor systems in assembly lines.
Agriculture: Farming equipment, such as tractors and harvesting machines, often use jaw couplings to transmit power from the engine to different attachments.
Material Handling: Jaw couplings are found in material handling equipment like forklifts, cranes, and hoists.
Water and Wastewater: Pumps and compressors used in water and wastewater treatment plants frequently utilize jaw couplings for power transmission.
Food and Beverage: Jaw couplings are used in food processing machinery where cleanliness, reliability, and flexibility are essential.
Textile: Textile manufacturing equipment, such as looms and spinning machines, often use jaw couplings to transmit power from motors to various components.
Packaging: Packaging machines and equipment benefit from jaw couplings' ability to absorb shocks and vibrations.
Printing: Printing presses and related machinery commonly use jaw couplings for their precise power transmission.
These are just a few examples, but jaw couplings are found in numerous other industries where power transmission and motion control are critical aspects of the equipment's operation. Their ease of installation, maintenance, and high-performance capabilities make them a popular choice for a wide range of applications.



editor by CX 2023-08-01